Male Bay
19 years old
1m72
He is elegant like a gentleman, with a natural instinct for the rail and competitiveness out of the ordinary. For many years now he is one of the most trustworthy and consistent horses of the circuit.
Kronos is the brother of Jubilée d'Ouilly
Best SF stallion based on the ISO in 2012
Results
Second in the stallion completion of SF at the age of 3, he completes a rare result list at the age of 4: 14 clear round out of 14 starts – which got him a special reward during the final.
Over 150.000€ in winnings in 2009. 90% placings during the season – including the win in the King's Cup in Madrid ahead of Hickstead!
In June 2009, Kronos sat in 8th place on the WBFSH ranking and was the first stallion behind 7 geldings and mares. He built another great career under the talented Belgian, Gregory Wathelet with the sole goal to make it to the biggest sport. They soon list several placings in 1.50m and 1.60m classes. This year Kronos has reached the honourable ISO of 179. He is unanimously considered to be one of the fastest horses of the circuit and has proven this several times. The last time was during the Gucci Masters where he ended 2nd behind Bosty, but with a rail on the last fence … thus faster.
Offspring
Though very limited, the offspring of Kronos displays homogeneity and remarkable quality. He passes on bone, magnificent soft tissue, balance and a unique mouth. He also transfers his style and extraordinary respect. Of his S-generation, 2 out of his 3 sons are approved for the SF. He has given one single foal in the P-generation that has already been exported. The Q-generation is being spotted and is now being exported aswel. Qeops d'Ouilly was exported to the USA in mai 2011. Under the name Punch, he has started to collect several wins at 1.40m-1.45m level with a junior rider.
Pedigree
His mother is Gardenia by Graphit. Which allows inducing and reviving the SF blood of his father Uzelien and grandfather Muguet du Manoir.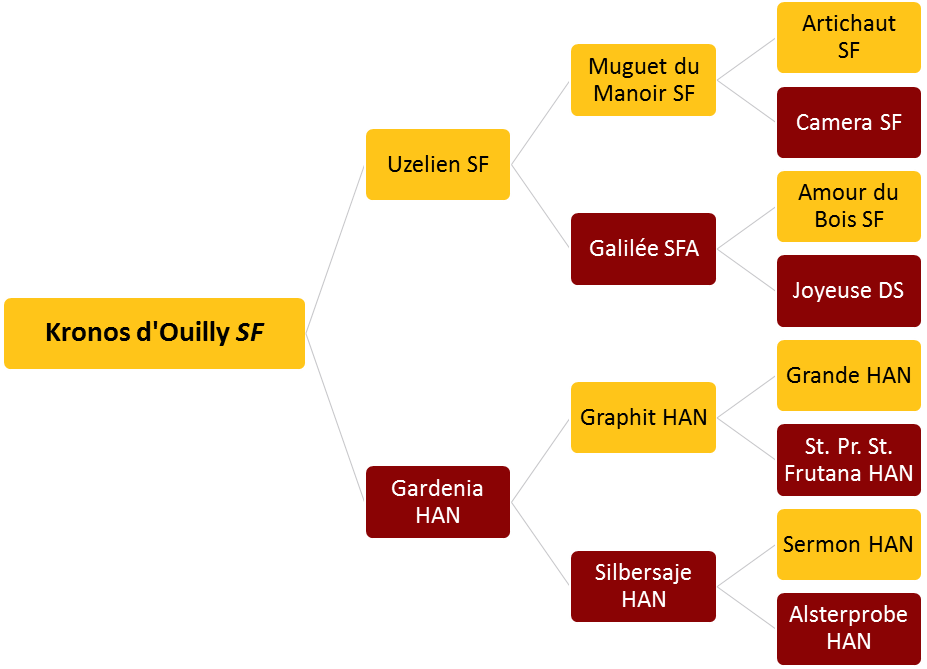 Breeding advice
Kronos improves all types of mares. He adds bone and frame to lighter types and adds blood those who lack. In any casy he will transmit his NIAQUE and respect.
Stud conditions
150€ upon reservation and 1350€ at 1/10 with the guarantee of a living foal.