Female Bay
20 years old
1m66
Jubilée is the sister of Kronos d'Ouilly.
Very slim, dry hind-quarter, a back and limbs that don't seem to end. Just looking at her chest shows her activity as an athlete at the highest level. She has got the profound and piercing look of her father.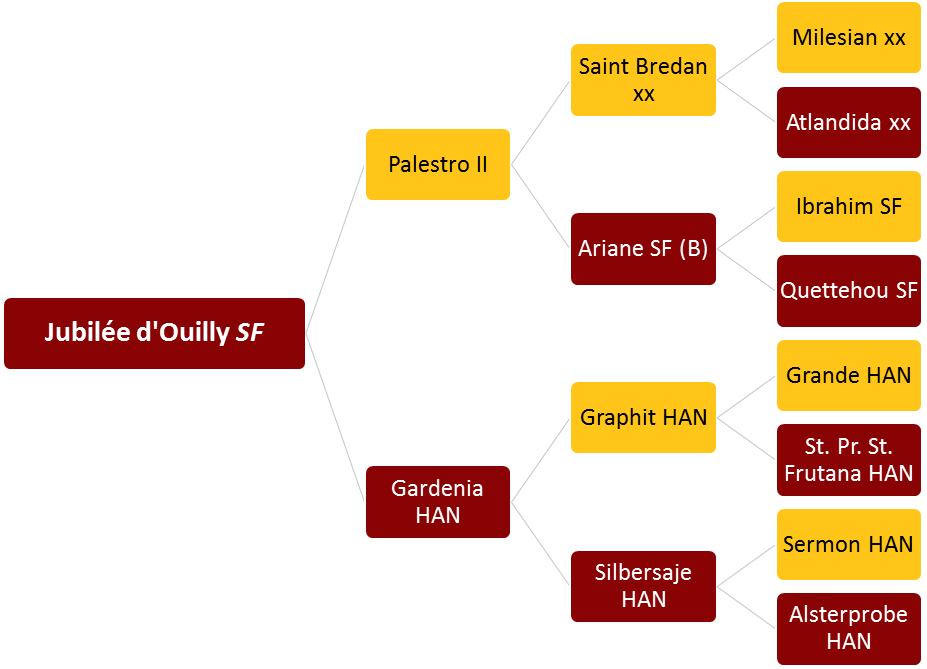 After the start of her career with Aymerick de Ponnat with who she finished 1st in the 1st qualifier for 'La Grande Semaine' in Fontainebleau at the age of 6 and ith who she won the Grand Prix of Einhoven and Hickstead at the age of 10, she joins Pénélope Leprévost.
In 2009 she lists a stunning 7 clear rounds out of 9 starts in the Nations Cups – including the jump-off in Rotterdam. She was also double clear in the Nations Cup of Rome and Aachen in July 2009.
A non-diagnosed sciatica keeps her out of the European Championships of August 2009. She is currently ending her recovery with doctor Pradier and will return to competition by spring 2011 with her Irish rider, Trevor Coyle.
In 2011 she will also become a mother for the first time.
Results
With Aymeric de Ponnat
11 first places out of 21 rounds at the age of 4
17 first places out of 24 at the age of 5
2nd in the Grand Prix of CSI* of Béthune Verquigneul
1st in the Grand Prix of CSI* of Mans
1st in the Grand Prix of Eindhoven
1st in the Grand Prix of Hickstead
With Pénélope Leprévost
77% success in the Nations Cups in 2009: 7 clears out of 9 rounds – including the jump-off in Rotterdam where she wasn't a supporting act but played the lead role, taking France to the victory.
Double clear in the Nations Cups of Rome and Aachen in July 2009.
With Trevor Coyle
During her adaptation to her new rider, she wins several classes in Vejer de la Frontera, even "without trying to".
Next, the fine-tuning has begun and Jub wins or is placed in numerous 1.50m national classes in Belgium.
At the end of their partnership Jubilée shows her best ISO ever and best SF studbook ISO and finishes with a win in the CSIO***** Grand Prix of Gijon.
In November 2012, Jub starts a new partnership with the talented Laura Kraut under the American flag. They already collected over 140.000€ in prize money. A good start. Jubilée backs Céderic up, in order to keep Laura on top of the GCT ranking, up until now. And the season has only just begun.
Offspring
Jubilée has given birth to 3 foals : one male by Stenthor and one female by Lando. A filly by Calvaro is born beginning of July.