Bucéphale d'Ouilly began his first season of competition under the saddle of Pierre Legout and the advice of Pierre Couillou in chaining the no-fault; like father, like son.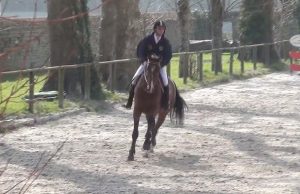 Bucephale calmly unfolded his first training courses 1 by chaining the faults very serenely. It will be his only objective of the season: to acquire the serenity, to build physically and to learn quietly his trade.
Bucephale is a clever mixture of Jubilee and his paternal grandfather: Kronos. He combines an exceptional mind with a lot of intelligence, blood and a force that will have to be channeled.
As a breeder, I dreamed about it. Jubilee and Kronos gave it to me. Long career to this little prodigy.