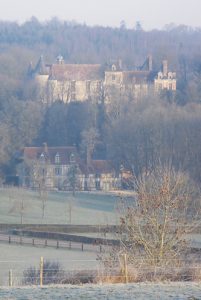 The Haras d'Ouilly is situated in the Calvados region, in the Pays d'Auge to be precise at about 15 min of Lisieux, 45 min of Caen, 45 min of Rouen and 1h45 min from Paris via the A13 or the N13.
The Haras d'Ouilly stretches over 130ha of Normandy grasslands, operated extensively, primarily favouring space for its residents. We produce our own cereals on 10ha of tillage, ensuring the quality of these products, the base of the nutrition for our horses.
We have 16 boxes and stables at our disposition, of which
2 are very large foaling boxes
and 4 spacious boxes for our stallions.
All of this is located near the staff residence of our breeding department responsible : Benedicte Clerfond.